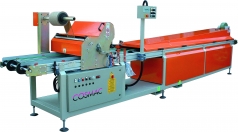 enlarge image +
SG90
GLUE-SPREADING MACHINE MOD. SG90
Glue-spreading machine suitable to glue, with vinyl glue, marble, ceramics and glass in various shapes and sizes previously arranged on panels dedicated to the most varied requirements.
The gluing can be performed on screened paper, craft paper, glass fiber net and other supports specific for mosaics, ceiling roses, frets, and bands of all kinds.
The machine is equipped with a hot-air drying tunnel with electric generator for the complete drying of the glue applied.
technical datas
Power
8 Kw
Length
6150 mm
Height
1000 mm
Width
1000 mm
air consumption
0.26 Nl/Min
back